Bio:
Agboola, Faith Moyosore is a writer, historian, editor, content strategist and author publicist.
She is the Founder and CEO of The African Writers, a multiple award winning pan-african literary brand with the aim of showcasing, developing and connecting the new generation of African writers. She is also the convener of African Writers Meet, a yearly event with the same purpose.
RLN: You are the brains behind a community of writers notably known as The African Writers, how did it all begin?
AFM: Everytime I'm asked this question, I always have different answers. Life is such a journey and things don't become clear until much later. Different things led me right into this path but I'll first say that I didn't choose to do this, The African Writers chose me.
In 2016, I was a fresh graduate interning at a National Newspaper. I have always had a passion for writing but my environment prior to that time had not been encouraging about the plausibility of this dream. It didn't help that I was doing well academically in history and international relations, everyone just didn't think an overall best graduating student should waste her life pursuing writing. According to them, I had better prospects.
But The Nation Newspaper was an eye opener. Imagine living your whole life thinking something wasn't doable or achievable and then you walk into a place filled with people actively pursuing and achieving this dream in diverse capacities. I met bloggers, authors, poets, published writers, script writers, content writers, editors and of course journalists. I learnt so much about the international literary community and the promise it holds but I still didn't create TAW, I just put it all into practice in my personal life and dreams.
A few months later, after sharing my work consistently online and getting positive reviews I began to seek for a larger audience. There were quite a number of foreign based social media accounts with very large following at the time so my quest was to get them to feature me with the hope that it will translate to more readers. But alas it didn't happen. I tagged these accounts endlessly to my work but got nothing. I felt invisible, unimportant and neglected. I had online friends and people I admire who had been writing rather amazing works and they also tagged these accounts but didn't get featured as well. Some similar accounts held some competitions as well, which we participated in but never won or placed higher than fourth.
I remember that afternoon vividly; I picked up my phone and doggedly investigated their respective pages. And I discovered something rather unsettling. They had no featured writers with names like "Adebayo or Nkateko or Chisala" we simply had cases of "Michael Stone, David Brown and June Wang" As an historian passionate about African people and culture, I became very angry about this. There were possible explanations, "maybe they didn't connect to these works" or "they weren't good enough" but at the time all that jumped at me was "discrimination."
I immediately went on Instagram and searched for "african writers." I wanted to find our own social platform and one that wasn't run by people who clearly didn't value or connect to our work. To my biggest shock, there wasn't an account like this. I tried several variations and it just didn't bring it up to the fore. Perhaps my mistake or maybe ignorance at the time was that I didn't google it, I simply felt the lack of social pages meant a lack of African literary brands for writers.
That night, I opened the Instagram account @africanwriters with the sole aim of showcasing our own works by our own people and organizing competitions that we can and will win. Everything else evolved over time.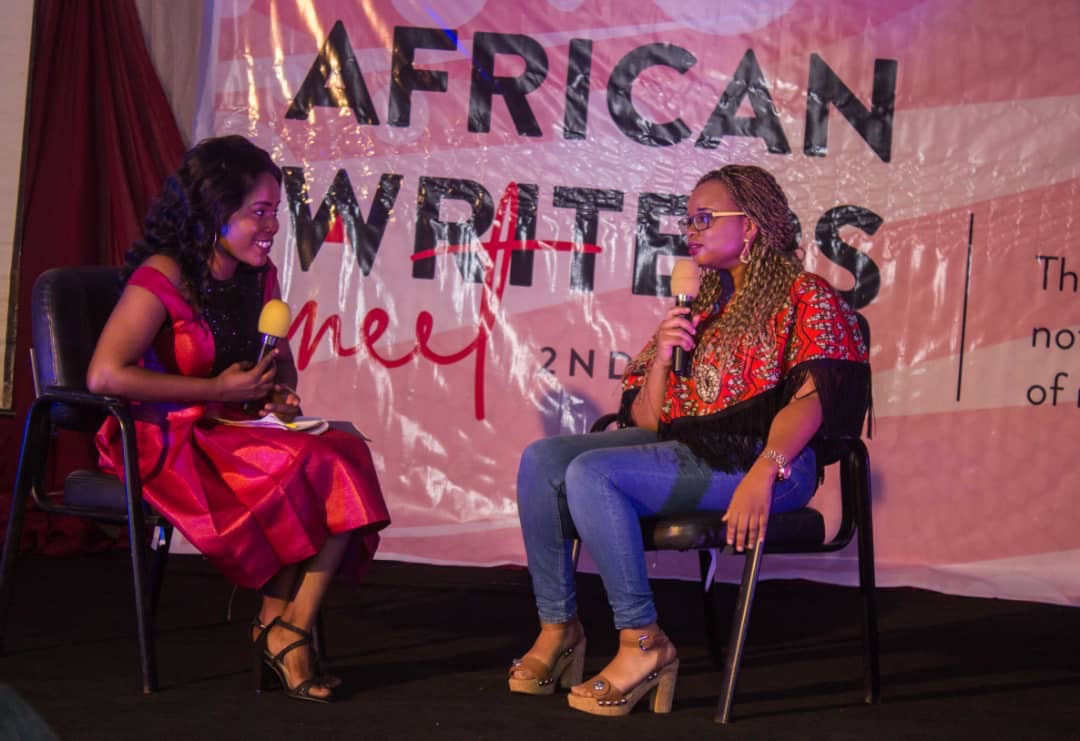 RLN: What was the inspiration behind the name "The African Writers"?
AFM: Well, the reason it was started is also the reason for the name. It's supposed to be our own – our page, our platform, our brand, for us and by us. "The African Writers" was to say "these are the African writers – Incase you didn't know, Incase you thought your discrimination was going to shut us down or Incase you didn't know they existed." I wanted writers who were searching for their home to easily find it – find something that speaks to them. The African Writers is simply me trying to attach prestige to being an african writer. I'm definitely sure my pan-Africanist and historical background influenced this choice. However, I'm glad and honoured that people love and connect to the name.
RLN: What has been the highlight of your time as the Founder of The African Writers?
AFM: Honestly, the first edition of African Writers Meet. I was a 19 year old recent graduate who had minimal work and managerial experience yet had this strong passion to do this. It wasn't even my idea. It was my mentor at the time who said "Faith why haven't you done an event. You have all that it takes" and then I went home and thought deeply on it. Fear made me push it repeatedly, from June to July to August to September and finally to October. I didn't think I could do it and for some weird reason I didn't think people would come. I didn't think the 6000+ followers at the time would translate to actual attendance. I guess I was really oblivious to the impact the platform had. Things eventually came together at the last minute. We got support from the Lagos State Ministry, amazing speakers accepted my last minute invitation and we had 3 times the number of attendees we expected. They all had such amazing things to say about my work with TAW and I remember feeling teary all through the day. At home that night, I said to myself with tear filled eyes and this wide smile that wouldn't leave my face, "This is really something. This chose me and I can't let it down".
RLN: What is a normal day like for you, how do you manage your time with your other engagements?
AFM: A normal day in my life is never the same. I'm not sure I have a normal day. Aside from managing TAW, I also have a whole lot of separate passions. There is the academic side which I'm currently pursuing, there is content strategy and social media management, there is filmmaking and there is author publicity and management. And of course my writing and speaking. TAW comes first most definitely, and everything else is done according to deadlines and importance. So I can't say I have a routine, I just do what my spirit says everyday.
RLN: What inspires you and keeps you going even in the face of adversity?
AFM: That it will all make sense in retrospect. Everything bad that has ever happened to me always fits into a puzzle when I look back. They always led to something greater, better and grander. So it might hurt at the time but knowing that in a few years it's significance will become clear keeps me going.
RLN: Your work is content driven and you are renowned for quality content, what devices do you use to generate your content?
AFM: Thank you for the kind words. Hmmm. Well, I'm already a content strategist and social media manager so it kind of reflects I guess. But I'll say, I follow the basic rules of giving value – whether that value is information, a fun experience that will be a distraction from a bad day or inspiration and motivation to push forward. Before we post anything, I ensure that we ask, what value does this give? And then I'm obsessed with innovation. I don't like to do things the same way everyone does them. So if I come up with something or a team member comes up with something and it sounds or looks like something a person or brand has done, I'll ensure we brainstorm on how we can make it different. There's nothing new under the sun, just do it differently. For devices, a graphic designer designs what we create but you can use Canva, Adobe Spark etc for DIY. I also follow pages that give tips on content and social media and I am always constantly learning about digital marketing. I'm obsessed with learning because in a fast changing world, your only protection is to never stop learning and innovating.
RLN: Apart from writing and content generation, where does your other passion lie?
AFM: Lol I already stylishly answered this but l'll say it again. Agboola Faith Moyosore is many things. I am passionate about African people, their history and culture ( simply put a very angry pan-Africanist lol), women's rights and empowerment, politics and nation building, media and communications, writing and speaking and I am actively pursuing these paths. They will all materialize over the years. But this is who I am and where you'll hear my name by His Grace.
RLN: Where do you see the African Writers as a community within 5 years?
AFM: The largest, most impactful, most innovative and most influential ecosystem of African writers which spans across the world. I want all our activities to be replicated in state to state and country to country and even to African writers in the diaspora. Hopefully in five years we would have started on this path.
RLN: What future do you envisage for writers of African descent and what role do you have to play as a visionary in actualizing this?
AFM: That the industry becomes the most lucrative and influential industry raking in billions and shaping national choices and realities. I believe a lot of our problems as Africans will be sorted if the people blessed with the gift of words are empowered enough to speak, influence and fight. As a budding leader in this space, I'll ensure that I play a strong role in making this a reality through our vision and mission and of course actual activities.
RLN: Your parting words for new writers and those who are lacking in confidence?
AFM: For new writers, please don't rush. Don't follow the crowd by racing to get published. All that you are writing now will make you cringe in a few years. For now, hone your craft, write everyday, read everyday and become friends with writers because non writers can kill your dreams. Follow communities like ours to serve as your guide.
For those lacking confidence, it's okay to be unsure. It's okay to be scared. It's okay that you think you are not good enough. What's not okay is letting this stop you. What's not okay is letting it make you quit. Use your fear as your power and as your guide. Everything I have ever been scared about turned out to be an epoch in my life. I'll leave you with this, "The greater the artist, the greater the doubt. Perfect Confidence is granted to the less talented as a consolation prize." Don't ever quit.
To connect with her: Follow her on @afmstories & @afmpublicist on instagram and Twitter.
To connect with The African Writers, follow on Instagram: @africanwriters, Twitter: @africanwriters_ and their website: www.theafricanwriters.com