Written by multi-award-winning author Tolu' A. Akinyemi, 'Born in Lockdown' is a writer's account of the coronavirus pandemic using poetry as a tool. The goal is to document the coronavirus pandemic era to generations unborn.
FOR IMMEDIATE RELEASE
September 8, 2021. United Kingdom— As coronavirus restriction eases with the world embracing freedom, the account of this pandemic era will be retold through many literary genres. Multi-award-winning Newcastle author Tolu' A. Akinyemi is daring in his latest release of coronavirus poems which aims to educate through poetry the account of this pandemic times.
The financial crime consultant by day, who has previously published twelve books, adds this compendium of coronavirus poems to his impressive literary resume, which includes many awards and an endorsement by Arts Council England.
Synopsis of 'Born in Lockdown':
Poets have always had the capability to travel inward – to create something out of the chaos of their inner world.
It is why poetry is said to be cathartic, for through it, the poet eases himself of his burdens.

But beyond that, poetry is also a tool for reflection. Oh, poetry cannot be stuffed into a single purpose for it is the expression of human emotions in line and verse, in styles and forms, rhymes and metres. And so, it acts has a way for the poet to transmit what he sees, thinks and feels in his inner world, those abstractions, into something tangible.

Stuck at home in the loud silence inflicted by a lockdown, where does the poet turn to? What does he turn to? His inner world?

Tolu' Akinyemi's Born in Lockdown is a collection of poetry birthed in such a traverse. The poems explore the pandemic and lockdown, and the myriad feelings, effects and reactions it birthed.

The collection begins with a declaration of the poet's utter despair:

There is a pandemic in my head,
raging like boiling water.
There is a war in my mind,
tugging at the deepest part of my soul.
There is a thunderstorm in my heart,
wreaking havoc like it is doomsday.

At each flip of the page, you come across poems that are either personal or reflective, or poems that are querying in tone. On how the pandemic disrupts intimacy, Tolu' wrote:

Your love in my heart was innocent
and untainted
until COVID crept in
and the veil of deceit was lifted.

What's appealing about this collection is the simplicity of Tolu's style and the softness of his metaphors. His similes and imagery are like the vivid strokes of an artist on canvas; they're not ambiguous. You read lines like:

The silence in this house is eating me up like termites ravaging wood.

This is poetry – minimalist, yet pronounced in what the poet was able to use simple words to achieve.

In this collection, Tolu' has proven himself a master of language, using words to weave moods and emotions. You oscillate between the heaviness of loneliness to the grief of a wrecked relationship to the hope of vaccines that will save the world. This collection promises you a titillating experience.
Tolu' said, "It's been an increasingly difficult past year for us all. There is no one accurate narrative that can fit the travails and personal losses many have experienced.
As writers, we are duty bound to document, observe, and recount history. I believe my collection of coronavirus poems 'Born in Lockdown' will be a useful addition to the abundance of literature that will document what a time this has been.
To this generation and many after, this one is for the history books."
Continuing, "Early reviews have been very positive as many advance readers feel this will be a useful historical reading for years to come."
Mariah. K. comments, "This is a very unique poetry book that the reader simply cannot put down. This is a series of snapshots of the time of COVID and everything that was a part of that – both the terrible parts and the parts that were not too bad. This book seems like a quick read and it is, but it is also very real about the struggles that most people faced during the pandemic and the lockdowns.
The author wrote about the vaccine, the struggles that families and others that lived together went through when there was no opportunity to hide or leave the other person/people.
I think that in the future this is going to be a unique historical piece that really lays out just what the COVID pandemic and lockdown did and meant to the people going through it."
A librarian, Brianna K. adds, "As the pandemic still rages on, I believe this book could relate to a lot of people that have dealt with the side effects of COVID-19; of losing someone, of knowing someone who has gone through it, jobless, etc. I would read this again and would save this for history books."
Also, Cat. N. reviewer remarks, this is raw feelings and emotions. I felt I could connect with everything I read as though the author was reading my mind.
Concluding Lauren K. wrote, it has been a while since I picked up a book of poetry and this book reminded me why I enjoyed studying it so many years ago.
Each piece simple in its own right, yet evoked emotions and memories of the last 18 months and was so relatable. It was as if the poet was in my mind in certain moments throughout the pandemic. Certain poems were particularly poignant for me – 'Boredom – These antidepressants no longer work; They don't understand the language of quarantine and isolation', 'Not The End – these variants know no colour', ' Survivors – The paranoia of COVID sends us into a dark hole', 'COVID Survivor – Our lives were clouded with loneliness, chilling fear and untimely deaths'.
This book holds an experience endured by all during 2020/2021 and I would recommend everyone to read it. In years to come when I have children and I tell them about the pandemic, I would refer back to this poetry to help tell the story of how it impacted on so many lives.
Thank you to the poet for such powerful writing.
'Born in Lockdown' is available now: https://amzn.to/38niHr0 https://tolutoludo.com/shop.html and https://theroaringlionnewcastle.com/shop/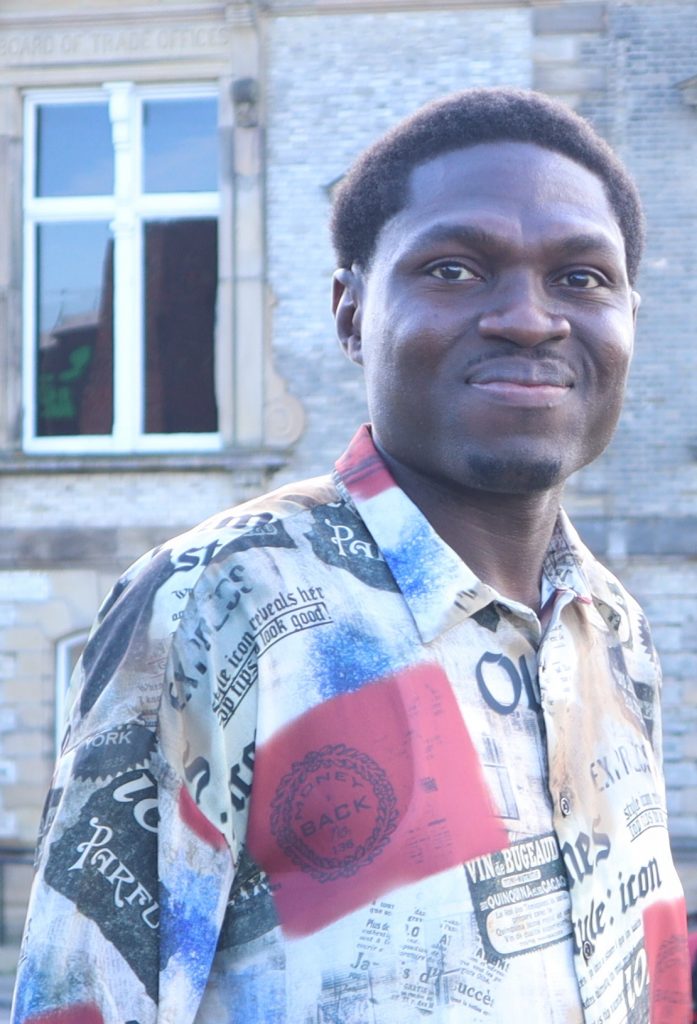 About the Author:
Tolu' A. Akinyemi (also known as Tolutoludo & Lion of Newcastle) is a multi-award-winning author in the genre of poetry, short story, children's literature and essays. His works include: Dead Lions Don't Roar (poetry, 2017), Unravel Your Hidden Gems (essays, 2018), Dead Dogs Don't Bark (poetry, 2018), Dead Cats Don't Meow (poetry, 2019), Never Play Games with the Devil (poetry, 2019), Inferno of Silence (short stories, 2020), A Booktiful Love (poetry, 2020), Black ≠ Inferior (poetry, 2021), Never Marry a Writer (poetry, 2021), Everybody Don Kolomental (poetry, 2021), I Wear Self-Confidence Like a Second Skin (children's literature, 2021), I Am Not a Troublemaker (children's literature, 2021), Born in Lockdown (poetry, September 2021), A god in a human body (poetry, forthcoming – January 2022), and You need more than Dreams (poetry, forthcoming – January 2023).
Tolu' has been endorsed by Arts Council England as a writer with "exceptional talent."
He is a co-founder of Lion and Lilac, a UK-based arts organization and sits on the board of many organizations.