With the release of two books 'A Booktiful Love' and 'Inferno of Silence', acclaimed poet and writer, Tolu' A. Akinyemi, secures a seat in the African Writers hall of fame for his consistency and versatility.
FOR IMMEDIATE RELEASE
May 8, 2020. United Kingdom—A notable author and poet named as a writer with exceptional talent by Arts Council England, is about to release his sixth and seventh book, and shows outstanding adaptability by writing his first collection of stories.
Tolu' A. Akinyemi has achieved great repute since the release of his previous books Dead Lions Don't Roar, Unravel Your Hidden Gems, Dead Dogs Don't Bark, Dead Cats Don't Meow and Never Play Games with The Devil. His latest release, A Booktiful Love and Inferno of Silence hit the bookshelves in May 2020 and will be in outrageous demand.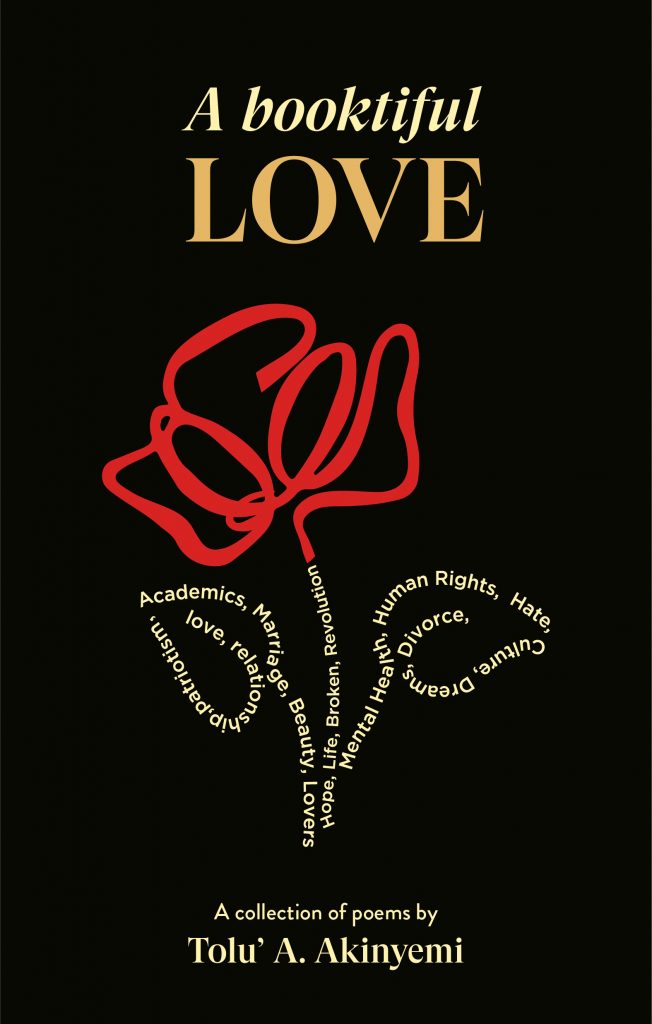 Synopsis of 'A Booktiful Love':
A Booktiful Love is a collection of poems that deal with the entirety of human experience in its various forms. Didactically rich, the poems explore ideas ranging from love, relationships, and patriotism to marriage, morality, and many other concepts pertinent to daily living.

Given its variety of themes, what unifies the poems in this collection is the simplicity and ambiguousness of language which the poet employs. The poems draw their strength from their clarity and meaning.

These are poems with a purpose. Poet Tolu' A. Akinyemi didn't shy away from this fact, as he wrote in the poems "Writers" and "Write for Rights." The poet's philosophy is evident in this collection. To him, a writer is saddled with the responsibility to use his words to teach, preach, and fight for freedom.
He writes:
"Let's change the world, one writer at a time,
Write those words till the world gets it right."

Another special attribute to this collection is the poet's experimentation with words. This is clear right from the title. The poet identifies himself as a creator of words. The reader is obliged to travel into the mind of the writer in each poem, to understand how his mind works. As readers approach the end of this collection, they not only become engrossed in its didactic richness, but also will appreciate the uniqueness of the poet's style and the sense of responsibility he carries.
Diane Donovan says, "if one thing can be said about this collection, it is that it celebrates, chastises, and enlightens readers on life and its various processes even as it emphasizes that dreams are valid and worth the price of their pursuit."
'A Booktiful Love' is available now: https://amzn.to/2SOLkWR
Synopsis of 'Inferno of Silence':
The first collection of short stories by this multi-talented author entwines everyday events that are articulated in excellent storytelling.
The title story "Inferno of Silence" portrays men's societal challenges and the unspoken truths and burdens that men bear. While "Black lives Matter" shows the firsthand trauma of a man facing racism as a footballer plying his trade in Europe.
Stories range from "Return Journey" where we encounter a techpreneur/ Poet/Serial Womanizer confronting consequences of his past actions to "Blinded by Silence" where a couple united by love must face a political upheaval changing their fortune.
Completed with stories of relationships: "Trouble in Umudike"—family wealth and marriage, "Everybody don Kolomental" where the main character deals with mental health issues, and "In the Trap of Seers" when one's life is on auto-reverse and with the death of her confidante, her mother as she takes us through her ordeal and journey to redemption. This is a broad and very inclusive collection.
Jennie Rosenblum says, "This wide range of characters, as well as the author's ability to write about the heart of matters, makes this an enjoyably intelligent read and an author to keep an eye on."
'Inferno of Silence' is available now: https://amzn.to/2xLUdJr
About the Author:
Tolu' A. Akinyemi hails from Nigeria and lives in the UK where he has been endorsed by the Arts Council England as a writer with "exceptional talent". A talented writer with over 10 years' experience, Tolu is the author of seven outstanding books, one of which is a collection of 'short essays' encouraging you to "Unravel Your Hidden Gems". The four other books form the basis of his poetry collection, ripe for future growth, and which includes Dead Lions Don't Roar, Dead Dogs Don't Bark, Dead Cats Don't Meow and his latest release, Never Play Games with the Devil. His recent books Inferno of Silence (A collection of Short Stories) and A Booktiful Love (A collection of Poems) are now available to order.
Tolu's books are based on a deep reality and often reflect relationships, life and features people he has met in his journey as a writer. His books have instilled many people to improve their performance and/or their circumstances. Tolu' has taken his poetry to the stage, performing his written word at many events. Through his writing and these performances, he supports business leaders, other aspiring authors and people of all ages interested in reading and writing. Sales of the books have allowed Tolu' donate to charity, allowing him to make a difference where he feels important, showing that he lives by the words he puts to page.