We all have a unique roar and creative talent that we need to showcase. As an Author and Creative, I meet countless people who tell me they have no talent or unique gift, but we all have that inner power to do the astonishing. Don't beat yourself too much with the stick of worthless or not good enough. The first step is to come to a place of acceptance that you can be more than what you're.
There is a difference between talent and passion and to awaken the "Sleeping Lion" you need to identify your unique passion. What are you passionate about? What do you love to do? I always tell mentees and attendees during my mentoring sessions or speaking engagements that I believe passion trumps talent.The reason I say this is that you can always hone your skills, learn a new course, improve on your art and craft but you can't learn passion in the same way you could improve on your art and talent.
Drop the excuse of not enough time, I have been asked countless times how I find the time to write and publish books when I still work as a consultant for a Global Investment Bank. My response goes thus: "You will always have time for that which you're passionate about".
Taking STEPS
The first step to find your unique roar is to come to a consciousness that there is a "Lion in you". You can't do ordinary things and expect extra-ordinary results. Once we come to the awareness that we can do much more, made for more and are capable of the exceptional. The awareness leads to a stirring and an understanding that there is a unique talent within that we need to showcase to the world. We must live every day of our lives in the consciousness that we're not mediocre; We carry the genotype and DNA of champions. To find your unique roar, you must understand your identity; you must know yourself and condition your mind to achieve great success.
Taking ACTIONS
It is not enough to have the awareness and build dreams with a dose of positivity, while being positive is of great benefit, I would say that positivity without taking action is tantamount to failure. To find your unique Roar, you must take calculated steps towards your dreams. I always encourage people to take baby steps, start small, start with what you have. Don't wait for perfect conditions before you launch into the deep. Feeding off from my experience as a published author, I can say taking baby steps really works out in great fashion. Avoid procrastinating and doing tomorrow what you can do today, a lot of dreams have been buried on the altar of procrastination.
Little Beginnings
To find your unique Roar, you must understand that there are days of little beginnings. You must see life from the lens you're on a learning curve. So, to move from where you're to where you want to be, you must cultivate the virtue of patience. Not everyone will be an overnight success, there will be days you feel like throwing in the towel and feel the journey is not worth it, but I would encourage you never to despise those days it seems as if it's not working. To find your unique roar, always understand that there is a process. You can't bypass the process and get the finished article. Be patient, learn, unlearn and relearn and I dare say "Find your Unique Roar".
1. What have you accepted within your life, physically and/or mentally? Additionally, what are you still working on accepting? Now, we're not talking about resignation, rather stepping into, embraced, and owned.
TA: I have accepted that I have the absolute responsibility for my life and my decisions today will invariably determine the course of my life tomorrow. If I do something worthwhile with my life and time, then I can expect results, if I do nothing, then I expect nothing in return.
2. Appreciation is everything. What have you learned to appreciate about yourself and/or within your life, physically and mentally? On the other hand, OR in contrast, are there elements of who you are that you're still working on appreciating?
TA: I have learnt to always appreciate my gifts and talents and elevate them over my flaws. I'm also grateful for the gift of life and good health, and I celebrate this as being in health means I can always chase my dreams.
3. Share with us one of your most rewarding achievements in life? Tell us not only what makes YOU most proud but also share the goals and dreams that you still have.
TA: Between September 2017 and August 2019, I have been able to publish four poetry collections, Dead Lions Don't roar, Dead Dogs Don't Bark, Dead Cats Don't Meow and Never Play Games with the Devil and a collection of Inspirational and Motivational Essays "Unravel your Hidden Gems" which is a monumental achievement for me considering that I have other commitments that take most of my time daily. I also have goals and dreams to have my books read in millions of homes and being an award-winning author.
4. Of course, we all have imperfections, or so we think. In truth, we are all perfectly imperfect. What are your not-so-perfect ways? Likewise, what imperfections and quirks create who you are—your Identity?
TA: My office space is perpetually untidy and I always need a constant reminder to drive my car down to the car wash. The weird part of me is that I would roar, bark and meow at events and corporate functions and this in part has helped to create my identity as a performance poet.
5. "I Love My…" is an outlet for you to appreciate and express all the positive traits that make you, YOU! In fact, sharing what you love about yourself will make you smile, feel empowered, and uplift your spirit and soul. (We assure you!) Therefore, Identity challenges you to complete the phrase
TA: "I Love My ability to create magic from the well of emptiness". I love my ability to empower others through my words and work. I love my ability to create and put my creative gifts to good use, and I love everything about my journey.
This was initially written as a guest post.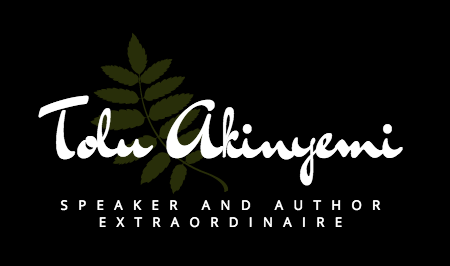 About the Author:
Tolu' Akinyemi hails from Nigeria and lives in the UK where he has been endorsed by the Arts Council England as a writer with "exceptional talent". A talented writer with over 10 years' experience, Tolu is the author of five outstanding books, one of which is a collection of 'short essays' encouraging you to "Unravel Your Hidden Gems". The four other books form the basis of his poetry collection, ripe for future growth, and which includes Dead Lions Don't Roar, Dead Dogs Don't Bark, Dead Cats Don't Meow and his latest release, Never Play Games with the Devil. His books are based on a deep reality and often reflect relationships, life and features people he has met in his journey as a writer. His books have instilled many people to improve their performance and/or their circumstances. Tolu has taken his poetry to the stage, performing his written word at many events. Through his writing and these performances, he supports business leaders, other aspiring authors and people of all ages interested in reading and writing. Sales of the books have allowed Tolu' donate to charity, allowing him to make a difference where he feels important, showing that he lives by the words he puts to page.
Facebook: https://www.facebook.com/ToluAAkinyemi/
Twitter: https://twitter.com/toluakinyemi
Instagram: https://www.instagram.com/tolutoludo/
Website: https://tolutoludo.com/ & https://toluakinyemi.com/