Bio: Iyanu Adebiyi is a Nigerian writer and performance poet. She stepped into the Performance Poetry scene on 1st October 2016 with Up Nepa. In 2017, Iyanu Adebiyi was awarded for her spoken-word video 'I am Something' by the American Embassy, via the U.S Mission Nigeria's Strength in Diversity Competition, and as a part of the Sevhage Publishers' Chapbook Series, a compilation of her poems and short story, 'The Road Leads Me Home' was published in 2017. In Abuja, Iyanu Adebiyi has performed in open mic, formal and informal events, including; The Korean Cultural Centre Poetry Feast, Agogo Liveroom, A Ken Saro-Wiwa Foundation Event, World Poetry Day for The Arts and Civics Table Nigeria, and lots more. She has also been featured on local media, some of which are: Voice of Nigeria, Nigerian Info FM, Kingdom Africa TV, One Voice Africa TV, Daily Trust Newspaper, etc. Her work has been published on literary journals like Brittle Paper, African Writer and social media (@iyanuadebiyi). Called to the Nigerian Bar, and a Kidney Care Ambassador of St. Remmy Foundation, Adebiyi writes with the aim of inspiring, educating and advocating for change with a new perspective to society's pressing challenges.
RLN: You are a poet and spoken word artiste, at what point did you embrace spoken word poetry?
IA: I wouldn't say I embraced it. I'd say it embraced me. To be honest, I didn't even like it the first few years I started. I was battling depression and suicidal thoughts at the time and I began to recite my poems to myself as confession and declaration of life. Then I decided to do it in public because I believed that if it could help me, it would help others too. I found the power of my voice in battle. I wasn't at home with myself so being vulnerable was a very difficult task for me, but poetry embraced me and didn't let go. I began to enjoy the stage from late last year and I wouldn't say I've fully embraced it yet because I'm still working through it and defining who I am and who I want to be as a performing poet, but I love it very much. My soul is ablaze when I am writing or performing a poem.
RLN: What has been the major highlight of your poetry/writing career till date? What is the biggest stage you have performed on as a poet?
IA: I think that every platform I've ever been given is big in its own respect. I have performed at an orphanage with no roof and I have performed at an event that had a thousand (1000) people in the audience and was streamed live to over ten thousand (10,000) people all over the world. I have performed in my friend's room with only her mother and twin brother cheering, and I have performed in a room full of expatriates. At every point, my heart is always filled with gratitude for the opportunity to share space with others and the privilege to connect to them through my art.
RLN: Which artiste/poet/writer would you say influenced your writing/performances positively?
IA: There is an entire village, but to mention a few; Kahlil Gibran, Maya Angelou, Titilope Sonuga, Sarah Kay, Donna Ogunnaike, Bash Amuneni. There are so many more.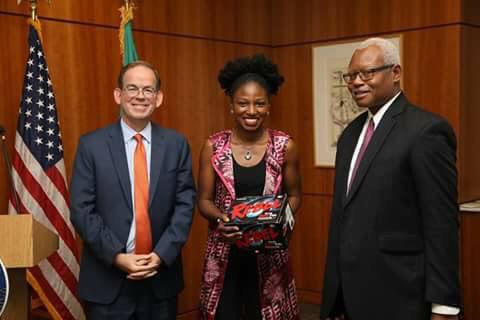 RLN: What themes do you tend to write on the most?
IA: Pain and hope is a recurrent theme in my poetry. These days, I am writing more feminist poetry, but there was a season when all my poems were focused on mental health awareness, then moved from purpose to heartbreak to patriotism to love. However, I hope to explore more and more themes as I grow in poetry. No matter what I am writing, the most important thing for me is to investigate the problem of human pain and see how I can introduce hope.
RLN: How do you see the spoken word scene in Nigeria and would you say poetry as an art form is gaining acceptance?
IA: It is still very young, but it is growing. I think poetry is gaining acceptance and there is a wave of new, exciting and powerful voices springing up. I am very fascinated by the possibilities.
RLN: What inspires you to write and speak out?
IA: I am a very fearful person in this world. My body shakes, my mouth becomes dry, my belly knots all over and my heart races when I am about to get on the stage but I do this because it chose me. I believe that this is a calling that won't let me be until I answer. And the more I answer, the more I see the effectiveness of obeying the call, in my life and in the lives of others. This world needs us to do what we can do or it will break apart.
RLN: A lot of people love your performances and see you as a role model, how does this make you feel?
IA: Humbled and vulnerable. I don't know how I moved from being suicidal to helping people heal. I don't know why they read or listen to my work and say, "See, there is light in darkness." I don't understand the science of this art, but I am grateful for it.
RLN: What would success be for you as a poet/spoken word artiste?
IA: sigh. It would mean a lot of things, but my biggest dream right now is to hear my poems in the mouth of children. I have so much faith in the next generation. They are our messiahs.
RLN: Do you write full time and what do you do to earn a living outside of writing?
IA: I am a lawyer, but writing full time is the dream biko (laughter)
RLN: What advice would you give to someone who wants to embrace spoken word poetry but is feeling overwhelmed?
IA: If you are feeling overwhelmed, start small – in front of your mirror. If you can face the person in the mirror, you can face anything.